About the Texas Common Course Numbering System (TCCNS)
Course Naming Standard
All TCCNS courses are identified by a four character course prefix representing the course type or academic discipline, followed by a four digit course number.
The first digit of the course number denotes the academic level of the course. The second digit represents the credit value of the course in semester hours. The third and fourth digits establish course sequencing and/or distinguish the course from others of the same level, credit value, and prefix.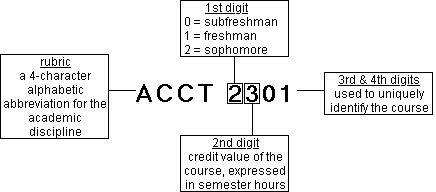 All prefix/number combinations correspond to the course descriptions listed in the Academic Course Guide Manual (ACGM), published by the Texas Higher Education Coordinating Board. The ACGM is the official list of courses for which state funding is provided to community colleges; in effect, the ACGM comprises the academic (in contrast to occupational/technical) courses Texas public community colleges may offer without obtaining special permission from the Coordinating Board.
History
Perhaps the most surprising aspect of the Texas Common Course Numbering System is that its origin cannot be traced back to a state government mandate. The TCCNS arose as a completely voluntary, grass-roots cooperative effort among junior/community colleges and universities. The Texas Higher Education Coordinating Board and its staff have provided advisory support as the TCCNS grew from an idea in the mid-1970s to a regional consortium in the late 1980s to a statewide organization in the early 1990s, but colleges and universities themselves are principally responsible for the emergence of the TCCNS.
1973-1975: TACRAO's Uniform Course Numbering Model
The idea which has evolved into the TCCNS began in November 1973 when the Texas Association of Collegiate Registrars and Admissions Officers (TACRAO) appointed a committee to study the feasibility of a uniform course numbering system for all postsecondary institutions in Texas.
The work of the GCCC committee, chaired by Don Pugh of Brazosport College, spanned the two-year period from August 1987 through October 1989.
The committee looked at a number of possible course numbering and articulation arrangements, including the California and Florida models. They finally settled on the basic numbering structure previously proposed by TACRAO, but tied the new course designations to the Coordinating Board's Academic Course Guide Manual to provide a common point of reference for course content, credit value, and sequencing. By 1989, all nine junior/community colleges in the Gulf Coast Consortium had committed to the new numbering system.
1990-1992: The Coordinating Board & TACRAO
In 1990 the Coordinating Board appointed a committee to revise the ACGM. Part of the committee's charge was "to review the feasibility of establishing a common numbering system for the first two years of lower-division coursework in junior/community colleges and universities." The committee recommended that a common course numbering system or a state equivalency table should be developed covering freshman and sophomore level coursework at both junior/community colleges and universities.
The Coordinating Board accepted the committee's report in January 1991 and Dr. Kenneth Ashworth, Commissioner of Higher Education, asked TACRAO president John Edwards for assistance in determining the feasibility of a statewide common course numbering system. Dr. Edwards appointed a Task Force, co-chaired by Dale Hardgrove of San Jacinto College and Zack Prince of UT-Arlington, to work on the project.
In a parallel action, Texas A&M University-Commerce (formerly East Texas State University) hosted a Common Course Numbering Conference in April 1991, bringing together representatives from 15 junior/community colleges and 5 universities in north and northeast Texas. Representatives from the Gulf Coast Consortium shared their experience with the group. As a result of this and a subsequent meeting in June, most of the junior/community colleges in the region chose to convert their course numbers to what was renamed the Texas Common Course Numbering System. Additionally, Texas A&M University-Commerce and Stephen F. Austin State University agreed to list Common Numbers parenthetically in their catalogs alongside their regular course numbers.
The success of these first meetings in east Texas prompted similar meetings in other regions of the state. The Texas Public Community/Junior College Association discussed the project at their summer 1991 conference; as a result, further regional meetings were set up under joint TACRAO and TPCJCA sponsorship throughout the state hosted at Victoria College, Texas Tech University, McLennan Community College, Tarrant County Junior College, and San Jacinto College.
These regional meetings succeeded in persuading institutions to join the project, owing mostly, perhaps, to two factors. First, no commitment was asked of institutional representatives up front; they were asked merely to consider Common Numbering as a possibility. Second, when representatives arrived at the regional meetings they found much of their potential work had already been done for them: the TACRAO Task Force had already drawn up equivalency tables for the lower-division courses offered at the representatives' institutions. While these tables were only speculative on the part of the Task Force and would require scrutiny and approval from the participating institutions, they were a tangible demonstration that Common Numbering could be accomplished.
1992-1993: Statewide Acceptance & Independent Status of the TCCNS
The work of the TACRAO Task Force, combined with the regional meetings, provided an impetus for rapid statewide growth of Common Numbering. To date, 136 institutions participate in the TCCNS. This number includes all public junior/community college districts, all public universities, all state technical college campuses, 21 private institutions, and three health science education institutions.
Committee Members
Texas Association of Collegiate Registrars (TACRAO)
Shelly Bowman
Assistant Registrar
Texas Tech University
shelly.bowman@ttu.edu
Hector Cerda
Coordinator of Enrollment Services
South Texas College
hcerda1@southtexascollege.edu
Melissa Hyatt
Associate Registrar
Texas State University
mh07@txstate.edu
Kristin McDonald-Willey, Chair
Director of Admissions and Registrar
Amarillo College
kmw@actx.edu
Kate Richardson
Registrar
North Central Texas College
krichardson@nctc.edu
Pam Wright
Assistant Director of Admissions
Texas A&M - Commerce
pam.wright@tamuc.edu
Texas Community College Instructional Administrators (TCCIA)
Kerry Schindler
Vice President of Instruction
Hill College
kschindler@hillcollege.edu
Texas Council of Chief Academic Officers (TCCAO)
Ashley Spicer-Runnels
Assistant Vice President for Academic Affairs
Texas A&M - San Antonio
Ashley.Spicer-Runnels@tamusa.edu
Texas Higher Education Coordinating Board (THECB)
Marissa Garza
Program Director for Academic and Health Affairs
Texas Higher Education Coordinating Board
Marissa.Garza@highered.texas.gov
The TCCNS Database Site Manager
John D Spencer
District Registrar and Director of Academic Support Services
Tarrant County College
john.spencer@tccd.edu
The TCCNS Purpose Statement:
The TCCNS is a transferability guide that will aid students, counselors, advisers, and transfer staff in determining course equivalency to higher education institutions.
The TCCNS Goals and Usage*
(See Disclaimer Below)

:
Student Goals:
Students will use the TCCNS to determine how any TCCNS course aligns with various institutional naming and numbering systems.
Student Usage*:
All Texas, public, community colleges are mandated to use the ACGM course inventory in their offerings to students. This ACGM number appears in the TCCNS column in the TCCNS. Students can use the TCCNS to view the courses designed for transfer that each institution offers. Students can also use the TCCNS to view how universities will evaluate various community college courses at their particular, 4-year, institution.
High School Counselor Goals:
High school counselors will use the TCCNS as one of many tools in the toolbox to aid students who are taking dual credit and/or concurrent courses. Counselors can use the TCCNS to assist students with making informed decisions in how courses taken as a Dual Credit (DC) student may/may not transfer to the student's intended 4-year institution.
High School Counselor Usage*:
In addition to maintaining strong conversations with the 4-year partners, counselors need to know that the inventories as institutions are typically bound by catalog year so the TCCNS courses will be ever changing as new courses are added, courses are deactivated/renumbered, and institutions change their own inventories.
University Goals:
Universities will review the ACGM and will compare these courses to their own curriculum to create a map for students, counselors, and community college displaying how various courses designed for transfer will transfer to their institution.
University Goals Usage*:
Universities will annually review and update their inventory. Universities will communicate to prospective students the caveats associated with credit transfer (e.g. grade minimums, degree applicability, etc.)
Community College Goals
1) Community Colleges will review their ACGM course offerings and update the TCCNS site to reflect their current TCCNS/ACGM courses.
2) Community Colleges can use the TCCNS as a tool (along with syllabi, MOU agreements, etc.) to view how 4-year university partners have mapped their own courses to the ACGM. 2-year institutions can use this mapping as a tool when dealing with the backwards mapping and/or reverse transferring credits related to course transferability back to their own institution.
Community Goals Usage*:
Community Colleges will annually review and update their inventory. Community Colleges will let transfer evaluation staff know this is a tool they can use and how it's created and it's intended use.
*Usage Disclaimers: Course equivalency or course transfer does not mean that the course will apply to a particular institution's degree plan. Also, a course that will transfer to one four-year institution as a particular course may not transfer to another four-year institution as the same course. The TCCNS provides a starting place for research. However, for courses to be guaranteed to apply to a degree plan, a student, staff member, etc. need to speak with the intended transfer institution who may look at factors such as if the courses completed are part of a FOS curriculum, if the student is core complete, and/or the catalog and catalog requirements and course offerings in place at the point the student enrolls.